Thread Rating:
Wood Gas Stove
31 August 2014, 17:16,
Devonian
Member

Posts: 1,494
Threads: 95
Joined: Dec 2013
Reputation: 8
Wood Gas Stove
I've been looking at these wood gas stoves:
http://wildstoves.co.uk/wood-cooking-sto...gas-stove/
And when I saw someone selling them for £20 on ebay, I decided to get one. Its purely as a back-up as I already have a decent compact gas stove and plenty of gas cylinders, but these wood gas stoves are compact, efficient and do not need a store of fuel to be maintained.
As well as the wood Gas Stove, I also bought a 14cm Zebra 'lunchbox' billy can into which the stove packs away perfectly as can be seen in the following photo's: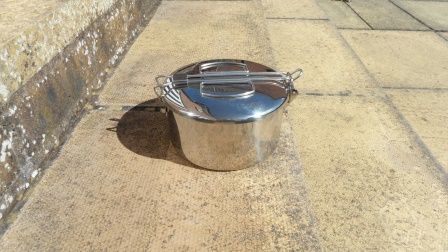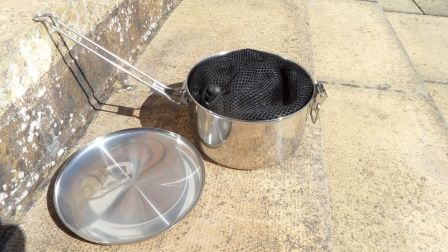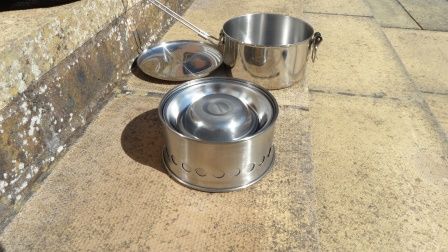 So having only taken delivery of the stove this week, I decided to give it a trial. First of all, lighting the stove just using a couple of matches and wood shaving was a doddle compared with trying to light a fire on the ground, the stove itself acts as a wind shield and there is clear air flow from below to help fuel the fire. Once lit, and adding fuel, the fire quickly took hold and was ready for cooking within a couple of minutes!!
I then used placed the billy on the stove with 1 pint of water in it to see how long it would take to boil.
The only issue I had at first was that the wood was burning too quickly, but that was my fault as I was only using wood shavings and thin branches, as soon as I placed larger sections of wood in the stove it was fine and kept burning without the need for additional fuel.
Once the stove was going, you could clearly see the effects of the wood gas providing a secondary burn from the high level ring of internal ventilation holes, this really helped to provide a much stronger heat.
It took about 6-7 minutes to boil a pint of water, but that included messing around adding fuel and taking photo's. Also it was quite windy as you can see from the flames, so I reckon with the right grade of fuel, in a sheltered location, you could easily boil a pint of water in under 5 minutes.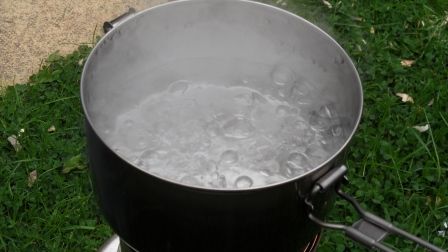 Once the fuel had all burnt out, there was also very little ash left.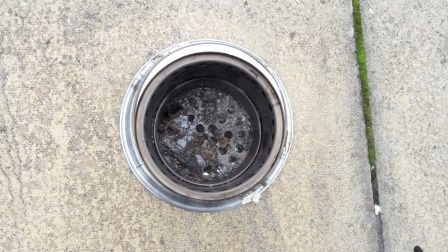 Overall I found this to be an excellent and very efficient stove, which is easy to carry and can be used with a variety of fuels.
The YouTube reviews/demonstrations on the above link are also good to view.
This is the actual one that I bought, though there are others at a similar price on ebay:
http://www.ebay.co.uk/itm/151361025381?r...26_rdc%3D1
I already had the Zebra having picked one up cheap at a recent land rover show, but this is the same one and I find these better than the normal Zebra billy cans as they do not have that dread plastic clip, these are all 100% stainless steel:
http://www.amazon.co.uk/Zebra-152314-Sta...zebra+14cm
31 August 2014, 20:46,
Tarrel
Member

Posts: 626
Threads: 27
Joined: Oct 2012
Reputation: 12
RE: Wood Gas Stove
Looks good. Could you tell me how much it weighs?
Find a resilient place and way to live, then sit back and watch a momentous period in history unfold.
31 August 2014, 22:34,
Devonian
Member

Posts: 1,494
Threads: 95
Joined: Dec 2013
Reputation: 8
RE: Wood Gas Stove
4 September 2014, 22:03,
T-oddity
Member

Posts: 312
Threads: 7
Joined: Sep 2012
Reputation: 4
RE: Wood Gas Stove
I've been using one of these stoves for awhile in my lightweight set up, I find that it works best if you can fill up the stove as much as possible with small dry bits of wood, the dryer the better before lighting and using some sort of wind shield around the stove makes a big difference, easily made or wild stoves do a good light weight one.
http://wildstoves.co.uk/wood-gas-camping...indshield/
I like this stove for a quick boil, or re-heating something in one burn, after that it's a bit of a pain trying to feed odd bits of sticks into the stove to keep it going or taking what your cooking off the stove to refill it and then have to wait for it to get going again, I still like it though and it is possible to use a trangia meths burner in it if no fuel is available.
9 September 2014, 12:17,
Sunna
Member

Posts: 1,475
Threads: 285
Joined: May 2013
Reputation: 7
RE: Wood Gas Stove
best thread on here for a while , you cant beat a hobo , free , free wood , easy to make.

could you not make a wgs out of a old paint tin.

good pictures thanks for making the effort
10 September 2014, 07:05,
T-oddity
Member

Posts: 312
Threads: 7
Joined: Sep 2012
Reputation: 4
RE: Wood Gas Stove
I've played around making all sorts of little stoves from tin cans, learnt a great deal in doing so the main thing being the cans don't survive for long with regular use, what you need is stainless steel or at least a thicker grade of steel.
Users browsing this thread: 1 Guest(s)